Nottingham Castle
The provision of access scaffolding and a weather protection system for the restoration of Nottingham Castle, presented Empire Scaffolding of Hucknell with some unique engineering and complex challenges to overcome.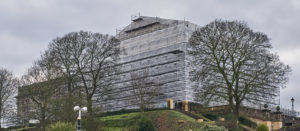 The grounds of Nottingham Castle consist of a network of historical caves, so keeping the overall weight of the scaffold to a minimum was a necessity, therefore Empire turned to TRAD UK's PLETTAC METRIX Scaffold System and ALTRIX Temporary Roof System, both of which provide light component weight coupled with high load capacities.
In addition, the scaffold structure had to be engineered without any physical ties, where a total of over 1,500 would have been required.  The PLETTAC METRIX system enabled support buttresses to be fully braced and weighted with ballast, eradicating the need to drill fix / tie to the historical building face which was being restored, with the adaptability of the system enabling the designers to locate the ballast in the most efficient areas.
Time constraints in construction time were also a major consideration and, with PLETTAC METRIX arguably being the safest and quickest system on the market to erect, TRAD UK were able to supply the ideal systemised solution.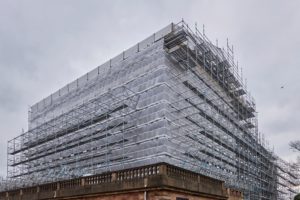 The ALTRIX Temporary Roof System was constructed in two phases, 50% of the total roof area being covered in each phase.  The 32.5m long roof was erected, using circa 3,900 individual parts, by the preferred roll-out method, where the individual bays of the roof are assembled at one end then rolled out progressively, resulting in a much safer method of construction for the scaffolder.
This project is a true example of where the new, modern and innovative systems of today, have been instrumental in preserving part of the UK's past.