PLETTAC METRIX proves a winner on the Forth Rail Bridge refurbishment
Denholm Industrial Services Ltd., working with TRAD UK, has utilised PLETTAC METRIX system scaffolding and ALTRIX alloy beam range to enable work on the complex structure.
The northern approach viaducts to the Forth Rail Bridge are part of an UNESCO World Heritage site, and any refurbishment must be carried out with sensitivity to the structure and to the local community. So when Denholm Industrial Services was appointed to blast and paint the steelwork to preserve the structural integrity, the company knew that the scaffolding for such a complex and intricate structure would require thought and preparation.
"We wanted to use system scaffolding," explains Jim Collier, Denholm Industrial Services' Project Manager for the refurbishment. "For such an iconic structure, most companies would have chosen traditional tube and fitting, but we recognised that the PLETTAC METRIX system would give us several benefits – the reduction in componentry required, along with the lower component weight, reduces the overall load on the bridge when compared to more traditional methods, while the advantage of metric divisibility allows us to manage some of the complex areas of the viaduct and reduce both the time and cost associated with managing the scaffolding. The reduced componentry also minimises residual risk, which heavily influenced our choice."
As the steel work on the approach is so old, drawings from the original design do not necessarily relate to what is actually there, and repairs have been made in the past which are undocumented, all of which adds to the difficulty in designing a scaffold which 'fits'.
"PLETTAC METRIX is proven to be faster to use than traditional tube and fittings," says Alan Slater, Head of Technical and Product Support at TRAD UK. "However, it can be a challenge to make the required changes to suit such an unpredictable structure. The expertise of Denholm's design and site teams, along with our collaboration and support has made it completely possible."
Nick Clark, Denholm Industrial Services' principal design engineer, has designed a suspended structure using TRAD UK's PLETTAC METRIX system on either side of the bridge. Between these structures, aluminium ALTRIX beams span underneath the bridge connecting either side. The suspended structures and ALTRIX Beams are connected to one another longitudinally using PLETTAC METRIX componentry and aluminium ALTRIX bracing elements. Supported by the beams and the suspended scaffold, an interconnected birdcage-type scaffold has been constructed using PLETTAC METRIX throughout the bridge to allow access to the steelwork.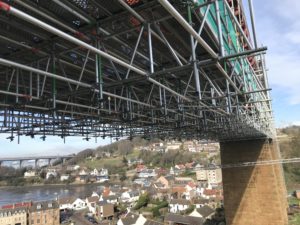 The seamless integration of PLETTAC METRIX and ALTRIX, along with their metric sizing, which allows for much greater flexibility and adaptability, has been a major factor in the ability of the project to be completed in system.
"Throughout the project, we worked closely with Balfour Beatty and Network Rail to come up with a system of work that allowed us to proceed," says Jim Collier. "Using THE PLETTAC METRIX and ALTRIX ranges has and will save us a significant amount of labour hours over the course of the project. Like all new approaches, we needed time at the beginning to train our teams and work out the best way to do things. But now we know what the challenges are and how to meet them, the scaffold is going up very quickly."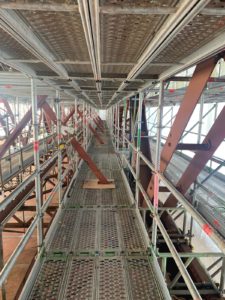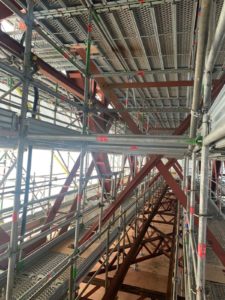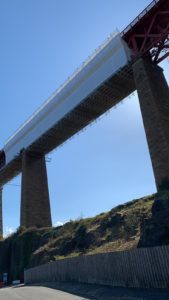 "TRAD UK has been fantastic. We have a great working relationship, so whenever we have had challenges they have been able to give us immediate support, including site visits, so they have been a great partner in this approach. We believe in adopting new technologies that improve project outcomes – if you don't evolve and invest, your business doesn't move forward – and the industry needs that innovation to deliver complex projects like this one."